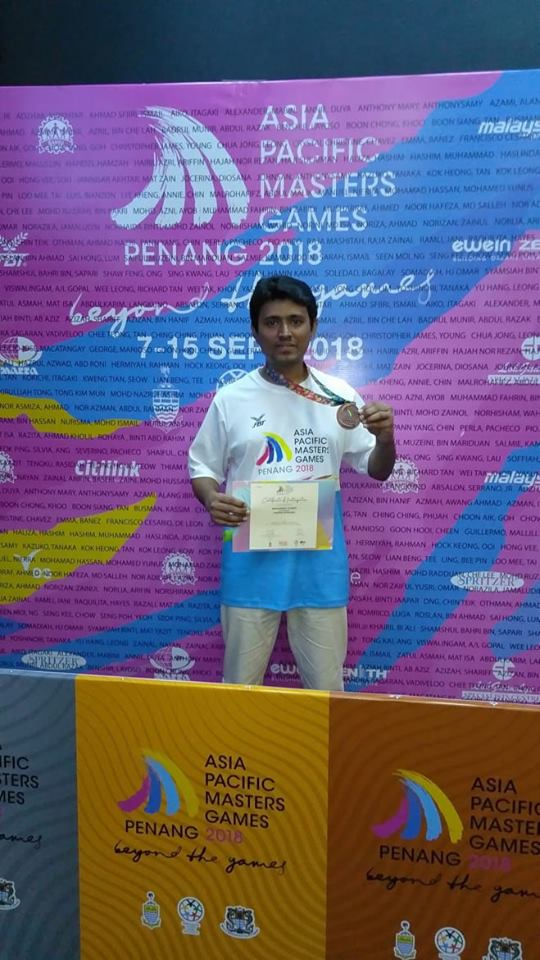 Penang, Malaysia, Sept. 11 (NsNewsWire) — Musharraf Ahmed Shohel of Bangladesh Tuesday created history by becoming the first Bangladeshi to win a medal in the 2018 Asia Pacific Masters Games in Penang, Malaysia as he clinched a bronze finishing 3rd in the group match of Tenpin Bowling.
The 2018 Asia Pacific Masters Games  is being held in the Malaysian state of Penang from 7 to 15 September 2018.
Organized by the International Masters Games Association (IMGA), it is the first ever Masters Games for the Asia-Pacific region.
The Asia Pacific Masters Games is a regional multi-sport event which involves participants from the Asia-Pacific region. Enditem
Mr. Musharraf Ahmed Shohel can be reached via Facebook for further comments ttps://www.facebook.com/musharrafhossain.ahmed;
His Malaysian mobile number: 01111640807;
His Email: shohelrecord@gmail.com.